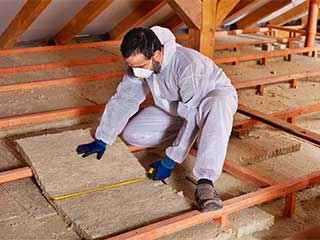 What Does Attic Insulation Do?
Many of us know already that hot air rises, but did you know it can easily rise right out of your home? Without proper insulation in your attic, it will do just that. This causes your heater to continue to run to keep your house warm, which is why your bill winds up so ghastly.
Even with air conditioning, insufficient insulation makes it far more difficult to keep the temperature stable and costs you in the long run. That's why investing now to ensure that you have the perfect amount for your home will make a huge difference in cutting those energy costs for good.
High-Quality, Fast Service
If you're going to get fresh insulation installed, you want to be able to trust it's done right. With our professionals, you can be sure that we're using the best tools and materials available. We'll work quickly, but never at the cost of a job well done.
Our experts also have knowledge of the area from performing installations on homes just like yours. This makes it easy for them to determine how much insulation is necessary for where you are. The amount needed depends on the climate, which is called the R-Value. A lower amount, or R-Value, is needed for warmer places, and vice versa for colder ones. Having the incorrect R-Value put in could wind up costing you, and fail to help your energy spending. Therefore, you want to be sure you're getting a team that knows what they're doing! That's what we're here for.
There are differing types of insulation, and each has their own set of pros and cons. Fiberglass may be less messy and dusty than cellulose, but cellulose is a greener option. Our professionals will be able to help you navigate all these factors to determine what's best for you!
Contact Us Today!
Take the first step to spending less of your hard-earned money on your energy bill every month, and call Attic Cleaning Glendale now. As our name suggests, we also perform professional attic and crawl space cleaning and decontamination.
In addition, count on us for:
Air Duct Repair and Replacement
Rodent Proofing & Rat Control Services
Radient Barrier Installation